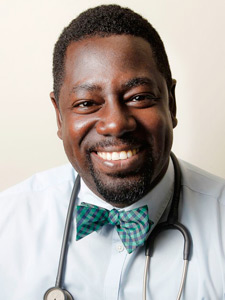 Family Physician
Dr. Darius Bain is the fourth of 5 children of Mr. Peter and Henrietta Bain. The son of a general contractor, hard work and perseverance were seen as the building blocks of character in their home.
Dr. Bain attended and graduated high school from Bahamas Academy in Nassau, Bahamas, then completed Associate degree in Biology, and a Bachelor of Science in Medical Technology at Northern Caribbean University in Mandeville, Jamaica. He then returned home to the Bahamas to practice Medical Technology at Doctors Hospital, and Kelso Medical Lab, and also provided technical support for the laboratory at the Family Medicine Center.
Dr. Bain matriculated into medical school at The Medical University of the Americas in San Pedro, Belize, where he received full academic scholarship for Basic Sciences. He then transferred to Xavier University School of Medicine in Oranjestad, Aruba, for Clinical Sciences and did rotations through the Emory Crawford-Long, and Atlanta Medical Center hospitals in Atlanta, Georgia. He was conferred the Medical Doctor degree with honors, and successfully completed U.S. Medical Licensure Examinations Step 1, and 2 before returning home to the Bahamas.
---
Dr. Bain aims to help strengthen family health and wellness in The Bahamas.
---
Dr. Bain worked as a physician assistant at the Emergency Room at Doctors hospital, then enlisted to clinical internship at the Princess Margaret Hospital. After successful completion of internship, he spent two years in the Department of Internal Medicine as a Senior House officer, then pursued and achieved a graduate diploma from the University of the West Indies in Family Medicine. He is currently involved in research projects with the university, and with the post-grad residents.
In his free time, Dr. Bain enjoys cooking, travelling, literature, linguistics, religious philosophy, and spending time with his family. He is married to Tina Bain, a German national, and together they have one son Lennox. He is excited to join the FMC team as a Family Physician, and to help strengthen family health and wellness in his homeland.