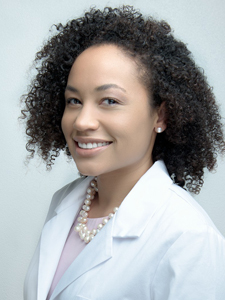 Family and Sport Medicine Physician
Meredith was born in the Bahamas and resided here until she moved to the US to attend Emory University in Atlanta, where she obtained a Bachelor's of Science in Biology. She then received her medical degree at Thomas Jefferson Medical College in Philadelphia. She completed her residency in Family Medicine at the University of Miami/Jackson Memorial Hospital and will be completing a fellowship in Primary Care Sports Medicine at the University of Miami.
She is excited to join the FMC to provide primary cares needs, as well as assist injured athletes in returning to their sport and aid non-athletes in remaining physically active. She offers rehabilitation oversight with our team of physical therapists, and plasma rich platelets (PRP) therapy for musculoskeletal related conditions. 
Meredith's hobbies include running and art.
Call 702-9310 to schedule an appointment