Family Medicine Center Highlights Emerging Opportunities For Pharmacists In Sport Medicine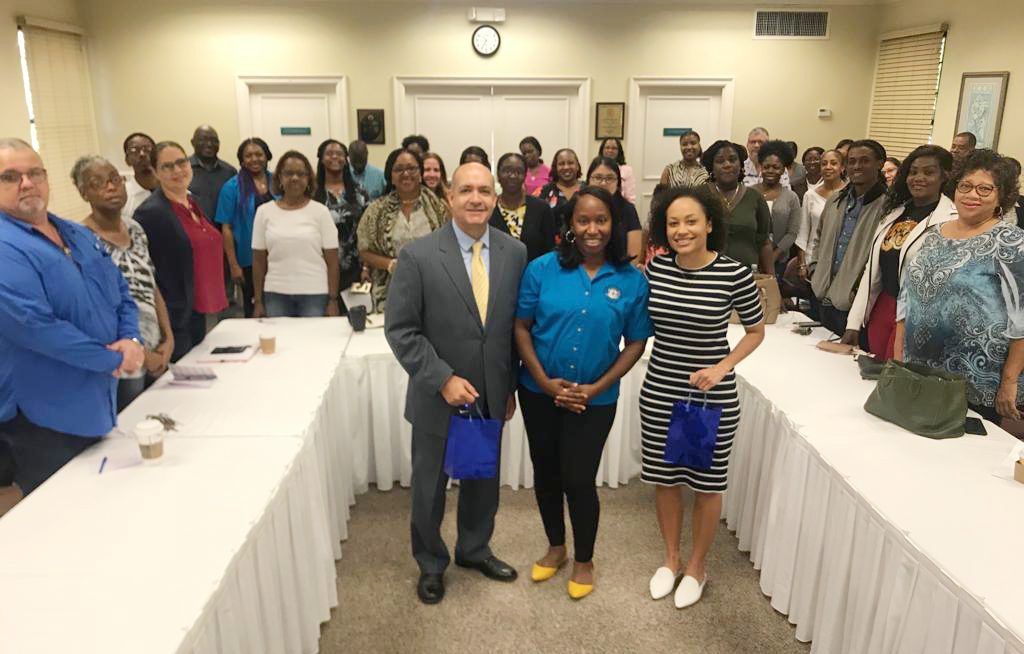 Sports medicine is a dynamic field that is opening new opportunities and roles for pharmacists.
Responding to this developing need, The Bahamas Pharmaceutical Association (BPA) held a seminar at the J. Whitney Building, entitled "Sports, Pharmacy & Athletes Cardiac Care: What Every Pharmacist Should Know".
The seminar, which took place on September 29, provided an opportunity for professionals in the sports, and healthcare fields, to share insights with the pharmaceutical industry of the Bahamas about the importance of the athletic pre-participation physical and sports medicine pharmacy.
Family Medicine Center physicians Dr. Julio Acosta and Dr. Meredith Turner both made presentations, providing details on the interconnection between sports medicine, the pharmaceutical industry, and athlete health.
Opportunities for pharmacists to obtain knowledge and practical experience in sports pharmacy were at the forefront of the seminar's discussions.
Family and Sport Medicine Physician Dr. Turner engaged the audience with information regarding supplements, performance enhancing agents, and banned substances in sports. She also spoke on some of the advancements in sports medicine, international guidelines, and the areas where more collaboration is most needed.
"There are new opportunities emerging for pharmacists to work with sports professionals in the general care of athletes, as well as doping prevention and control," Dr. Turner said.
Athletic Cardiac Care, was the focus of Interventional Cardiologist Dr. Julio Acosta's presentation, which exposed the relevance of cardiovascular evaluation in athletes in order to identify possible cardiac conditions that could represent a high risk for sudden cardiac death during intense physical activity.
This cardiovascular evaluation can be performed on athletes already engaged in sports activities, or persons (including children or young people) who want to start practicing a sport professionally or in a recreational way.
Dr. Acosta also spoke about the cardiovascular effects of doping and performance-enhancing drugs, and the need to inform and educate athletes in order to prevent misuse of substances.
"This kind of education is pertinent, considering the increasing number of people engaging in physical activities and sports, and the availability of drugs to enhance their performance," said Dr. Acosta. "It is important to remember that for recreational athletes, the numbers are even higher and they are also exposed to potential misuse of substances."
The BPA is the official representative for pharmacists, pharmacy technicians and pharmacy students in The Bahamas. Part of its mandate is to ensure education for its members and for the public as it relates to the pharmaceutical industry and pharmaceutical care in The Bahamas.
Approximately 35 people attended the seminar and the feedback was unreservedly positive. The seminar was marked as a great success by Michelle Finlayson, immediate past president of the BPA and current representative of Worldwide Pharmaceuticals, who sponsored the continuing education event. Ms. Finlayson said she would like to see Family Medicine Center involved every year.
Family Medicine Center is a multi-specialty facility which promotes a whole-life health and wellness approach, and integrates education with medical support, laboratory, diagnostic imaging, pharmacy, nursing and psychology.
For more information contact Family Medicine Center at 702-9310.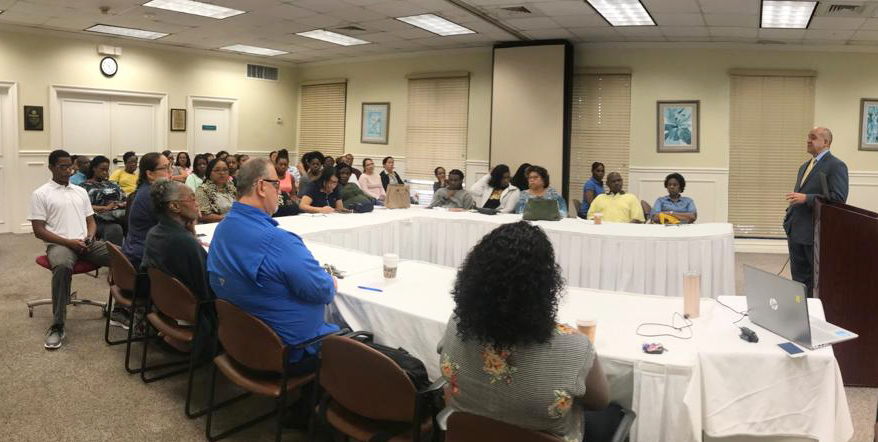 Captions:
Top of article: President of The Bahamas Pharmaceutical Association (BPA), Shantia Hield-McBride stands between Family Medicine Center physicians Dr. Julio Acosta and Dr. Meredith Turner, with BPA seminar attendees in the background.
– – –
Dr. Julio Acosta, Interventional Cardiologist making a presentation to The Bahamas Pharmaceutical Association on Athletic Cardiac Care.