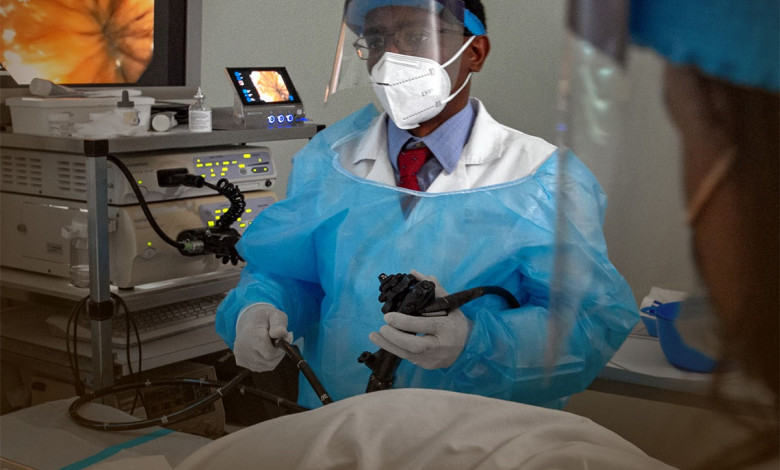 Dr. Flloyd Carter urges people to get their colon checks during awareness month as part of health maintenance
Everyone must be their brother's keeper, and if you care about someone, you should ensure their health is taken care of. According to gastroenterologist Dr. Flloyd Carter, screening is a part of health maintenance, and during Colon Cancer Awareness Month, everyone age 45 and older should be screened for colon cancer.
"Everyone has a colon, so everyone (men and women) is potentially at risk for colon cancer. And even though everybody is at risk, colon cancer is preventable. We [medical professionals] typically quote that 90 percent of colorectal deaths were preventable, so this is a cancer that we could potentially eradicate or reduce significantly, if screening is done appropriately."
According to Carter, colon cancer is the third most common cancer behind prostate cancer and breast cancer in The Bahamas. He said Bahamian men should ensure they have their colons checked after their prostate is checked, and the age across the board for men and women is 45-years-old, a reduction by five years for the former age requirement.
"A few years ago, the screening age dropped to 45 for Blacks only – and just last year, for everyone. We [medical community] were calling for it [age reduction] for a while because we've been diagnosing colon cancer in younger people. Statistics are showing colorectal cancer in patients under 50 is actually rising, and the incidence over age 50 is decreasing because of effective screenings. The age requirement was reduced to put a halt to that."
Colorectal cancer is the highest cancer incidence in men after prostate cancer. In females, colon cancer is third after breast cancer and cervical cancer. Carter said colon cancer could soon be the second highest cancer incidence in women as the rates of cervical cancer are dropping significantly due to vaccination and decreases in cervical cancer.
Prevention, the doctor advises, starts with screening.
"There are people who have been screened, and they have loved ones who have not been screened. We can do better if everyone looks at colon cancer screening as a family affair. If you care about someone, make sure their health is taken care of. Screening is a part of health maintenance," said Carter, medical director at The Gastroenterology Clinic Bahamas at Family Medicine Center, Blake Road; and the Village Road Professional Center, Village Road.
There are different types of screening tests – some are cancer detection tests that are stool-based, during which medical professionals check the stool for blood; the others are cancer prevention tests during which the colon is evaluated for polyps.
"One actually detects the cancer early so you can cure it; the other is to prevent the cancer from developing in the first place," said Carter.
All cases of colon cancer start out as polyps. It typically takes eight to 10 years for a colon polyp to grow into a colon cancer. A colonoscopy can remove any polyps that may be seen during screening, preventing polyps growing into cancer.
ROADBLOCKS TO SCREENING
Carter said there are two major reasons people don't seek to have their colon checked – one is the negative impression about colonoscopy and the other is the cost of the procedure.
"Most people believe that a colonoscopy is painful and that is incorrect. Colonoscopies are painless procedures. The procedure takes typically up to 30 minutes [and] most people will spend an hour-and-a-half at the center where they're getting the procedure done, and it does not require hospitalization."
The worst part about a colonoscopy screening according to the doctor is usually the day before the procedure, when a person has to prepare their bowel for evaluation, which means intaking only clear liquids and taking a specially designed laxative to flush the colon, so that it's clean at the time of evaluation and no stool is present.
With no stool present in the bowel, Carter said this allows doctors to confidently determine what they are seeing. If stool is present, he explains, they may not be as confident.
"The not eating is a big problem, but you can drink as much as you want. [And] because we apply a very light sedative for the procedure, they normally spend an extra 20 minutes of recovery," he said.
"We are still fighting the negative perceptions about the procedure. People who have good experiences don't broadcast and it's usually the negative experiences that are shared more widely. Colonoscopy is safe and painless under expert hands."
He added The Bahamas has five well-trained gastroenterologists in himself along with Dr. Marcus Cooper, Dr. Beverton Moxey, Dr. Gemma Rolle, and Dr. Harold Munnings.
"So, [The] Bahamas is quite fortunate in that patients have great options of competent specialists that can safely perform the procedure," said the doctor who is a member of the Association of West Indian Gastroenterologists.
According to Carter, cost is also a big factor for many people in that a screening typically runs $2,500 cash, performed privately. Offsetting that cost he said is the fact that it's a screening that is only required once every 10 years.
But during March's awareness month, Carter said he and his colleagues do their part to encourage people to get screened by offering a 50 percent discount.
And he adds that they have seen an uptick in people taking advantage of the discount and that March is their busiest time of the year.
"My colleagues are busier during this month, so perceptions are changing and we're seeing a lot of screenings, removing more pre-cancerous lesions and likely reducing the cancer incidence in the colon. It's encouraging during the month of March, but we are only putting a small dent in the people that need to be screened."
In screenings, he explained, he has seen people who have no symptoms but have multiple giant, golf ball-sized polyps in their colon, which he assures they can remove. The most disheartening cases he admits are those who, when the doctor goes in, finds that the patient has advanced cancer, but showed no symptoms.
The good thing about colon cancer he said is that colorectal cancer progresses through a stage that includes the growth of polyps, which means medical practitioners can prevent the development of colon cancer and save lives if they intervene by screening at the polyp stage.
SYMPTOMS
For people that develop what they refer to as "alarm symptoms" – unexplained weight loss, change in bowel habits, blood in stool, people who are anemic and have iron deficiency and not sure why, abdominal pain, and a family history of polyps and colon cancer – Carter stresses that they seek medical attention.
And people younger than age 45 with any of the symptoms he said should get checked.
"You can't ignore symptoms, even if you're younger," said Carter. "You should at least visit a trusted physician. Even people who say they have no symptoms have been having a change in bowel habits that they ignore and call it gas … gas has killed a lot of Bahamians, unfortunately."
The youngest case he has seen was 38 years old.
Carter said the push for people to be screened for colon cancer is a global one.
"This is a worldwide issue, but we [Association of West Indian Gastroenterologists] are doing our part as an association to ensure the region reduces the incidence of colorectal cancer."
Shavaughn Moss
The Nassau Guardian