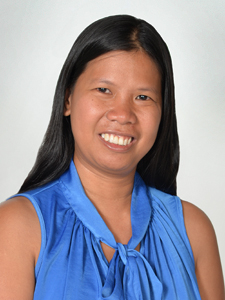 Physiotherapist
Axle Inertia Pajarito-Joseph was born and raised in the Zamboanga City, Philippines with her brother (also a Physiotherapist) to Eduardo and Rosina Pajarito.
She obtained her Bachelors of Science in Physical Therapy at Misamis University and her Bachelor in Science in Nursing at Western Mindanao State University.
After passing the Philippine Licensure exam for both Physical Therapy and Nursing, she proceeded to work with private clients as well as with Clinica de Dolor y Rehabilitation handling variety of cases from pediatrics to geriatrics and everything in-between.
In 2015 she moved to the Bahamas where she married her wonderful husband. She continues to work as a physiotherapist with the belief that it is not how long our life is but the quality of life that is important. With this philosophy she strives to improve the quality of life of her patients.
Call 702-9310 to schedule an appointment