Podiatrist, Wound Specialist, and Diabetes Educator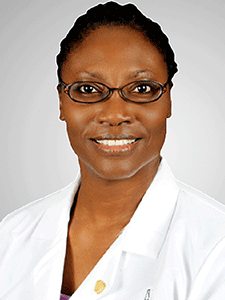 Dr. Monique Mitchell is a veteran healthcare professional with more than thirty years of experience. Her career in health began when she completed an Associate of Science Degree (ASD) in Nursing at the College of the Bahamas in 1988 in the 2nd inaugural class.
She worked as a Registered Nurse in Medical, Surgical, and Psychiatric settings for several years. She went on to obtain a Bachelor of Science in Nursing with a minor in Community Health from the University of Central Oklahoma in Edmond, OK in 1994. Here, she developed a love for Community Health and endeavoured to see healthy people in healthy communities. She went on to complete a Master of Public Health in Health Promotion & Education from East Tennessee State University in Johnson City, TN in 1996. She became a Certified Health Education Specialist (CHES) and loved helping people learn to live healthily. While working in diabetes education she discovered her next career, Podiatry.
She returned to university in 2002 and obtained a Doctor of Podiatric Medicine (DPM) with honours from Barry University, Miami Shores FL and completed a Medical & Surgical Residency at the Mount Sinai Medical Center, Inc of Miami Beach, FL.
She is a Board Certified Wound Specialist Physician (CWSP) and a Diplomate in the American Board of Multiple Specialties in the Prevention & Treatment of Diabetic Foot Wounds and Diabetic Footwear. She is also a Certified Health Education Specialist, and a Bahamas and Caribbean Certified Diabetes Educator (BCDE/CCDE). She has received additional training and is in the process of completing certification in Minimal Incision Surgery and Gerontology. To stay up to date and on the cutting edge of her profession, Dr. Mitchell regularly attends and has presented at a number of local and international podiatry and diabetic foot conferences.
---
… Highly qualified and experienced in podiatric medicine, with extensive interest and skill in diabetic foot care, from monitoring and surveillance to wound care, and limb salvage.
---
She works tirelessly to educate and empower people with diabetes to prevent lower-extremity complications. She developed a free community seminar Feet Can Last A Lifetime, which has been going on for almost 10 years. She also designed the diabetic foot lay education training programme which was funded by Cable Bahamas Cares Foundation in 2012. She spearheaded the SALSAL Diabetic Foot Symposium targeting health professionals with current evidence-based training on the management of diabetic foot wounds and amputation prevention. She served as the Deputy Chair of the Bahamas Podiatric Medical Association and is now the chair. She was the Sergeant-at-Arms of the Bahamas Diabetes Educators Association.
She was one of the first podiatrists to qualify as a Lifestyle Medicine Professional with the American College of Lifestyle Medicine. She is also a Certified Health Coach. She was elected as National Representative and Full Member to D-Foot International. D-Foot International is a registered international non-profit association in Belgium promoting the global profile of diabetic foot prevention and care through awareness, guidance, education, research, and professional development. Dr. Mitchell has developed and runs an online education and support group, Feet 4 Life for persons with diabetes and foot concerns or complaints.
Dr. Mitchell is dedicated to her family, her church, and God, whom she serves.
Clinical Services:
• Comprehensive evaluation, diagnosis and treatment of all foot and ankle complaints
• Treatment for lower extremity ulcerations
• Treatment of peripheral arterial disease
• Prevention and treatment of foot complications of diabetes from surveillance and maintenance to advanced wound care to limb salvage
• Corns, calluses, nails
• Trauma care (fractures, dislocations, contusions, burns, deep lacerations, ruptured or torn ligaments)
• Surgical treatment for all structural deformities including bunions, hammer toes, etc.
• Prevention of lower-extremity amputations
• Treatment of severe, acute and chronic infections of the foot
• Orthotic devices
• Lower Extremity Amputation Prevention programme
• Routine Foot and Nail Care
• Professional nail and callus care
• Wound Care
• Footwear dispensing
• Patient Education
• Flexible and extended clinic hours
• Diabetic foot education for patients, families and health professionals