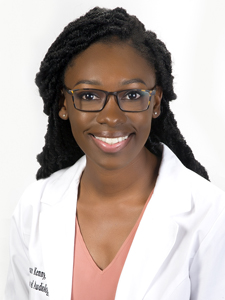 Audiologist
Dr. Treasure Kenny was born and raised in Nassau, Bahamas, receiving her high school education at St. Augustine's College. This was followed by a Bachelor of Arts in psychology and minor in Hispanic Studies obtained at College of St. Benedict in St. Joseph, MN in 2014.
In 2018, she earned a doctoral degree in audiology from University of North Texas in Denton. Prior to this, she completed a variety of clinical internships within the Dallas/Ft. Worth area, followed by a year-long residency at Charlotte Eye Ear Nose and Throat Associates in North Carolina.
As she is American Board of Audiology certified, her aim is to provide the highest standard of audiologic care and to help reduce the deficit in audiology services within The Bahamas.
Call 702-9310 to schedule an appointment