Foot and Ankle Surgeon/Specialist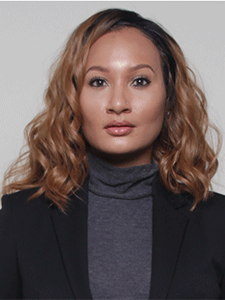 Dr. Knowles, DPM, DABPM, AACFAS, was born in New Providence, raised in Grand Bahama, and completed her secondary education at Freeport Anglican High School in 2004. She began her tertiary education in Syracuse, New York, and graduated with a BS in biology with a minor in chemistry in 2008. She later completed her Doctor of Podiatric Medicine at Barry University in Miami, Florida in 2012 and then went on to complete her surgical residency at The Brooklyn Hospital Center in June 2015 as chief resident.
After completing her residency program, she was asked to join the teaching staff in the Department of Surgery, Division of Podiatry, and considered it a great privilege as it was indeed fulfilling to assist in resident training and development for the last 7 years. She advanced to Assistant Program Director of the residency program at The Brooklyn Hospital Center in 2019. After getting married in 2021 and having a baby in January of 2022, she decided to return home to the Bahamas for this phase of her life.
---
"I ensure that my patients are comfortable, and knowledgeable about all aspects of their treatment regimen including all conservative and surgical options. This, in turn, gives the patient confidence and increases patient compliance as we work toward the same goal. My mission is to provide personalized high quality care."
---
Dr. Knowles has a simple premise: Make available to every individual, the health resources needed to live a healthy and active lifestyle. This begins with educating all patients on the importance of preventative foot health measures, as the feet are the foundation of a healthy and active lifestyle.
Feet are complex anatomical structures, all-in-one stabilizers, shock absorbers, and propulsion engines that are instrumental to overall health and well-being. They require expert care! Dr. Knowles treats patients of all ages with any foot & ankle concern, ranging from pediatric foot deformities, diabetics, trauma victims, athletes, and more.
In her personal time, Dr. Knowles enjoys exercising, spending time with her family, and being mummy to baby Israel.
Clinical Services:
• Foot & Ankle Trauma
• Strains, Sprains, Fractures, Dislocations
• Diabetic Limb Salvage
• Foot & Ankle Reconstruction
• Tendon Repairs/Augmentation
• Pediatric Foot Deformities/Abnormalities
• Bunions/Hammertoes
• Heel Pain/Plantar Fasciitis
• Wound Care/Ingrown toenails