A routine health check-up includes lab work and a physical examination.
The routine lab testing includes checking minerals, glucose (sugar), organs, cholesterol, anemia, and urine.
For males over 40, a PSA test is added, and females over 21, a pap smear is added.
If you are using insurance, we will contact your insurance provider to get your annual benefits.

Primary Care Health Check-Up
& Routine Screening
Costs

Self-Pay Physical
$150.00

Comprehensive Metabolic Profile- CMP
$35.00

LIPID
$50.00

Complete Blood Count- CBC
$20.00

TSH
$65.00

Urinalysis- U/A
$21.86
| | |
| --- | --- |
| Pap Smear (women over 21) | $70.00 |
| PSA – prostate (men over 40) | $65.00 |
Lab work prices above do not include VAT
---
Total Physical Exam & Lab Costs:
Women, including PAP: $453.05
Men, including PSA: $447.55
Men/Women, no PSA/PAP: $376.05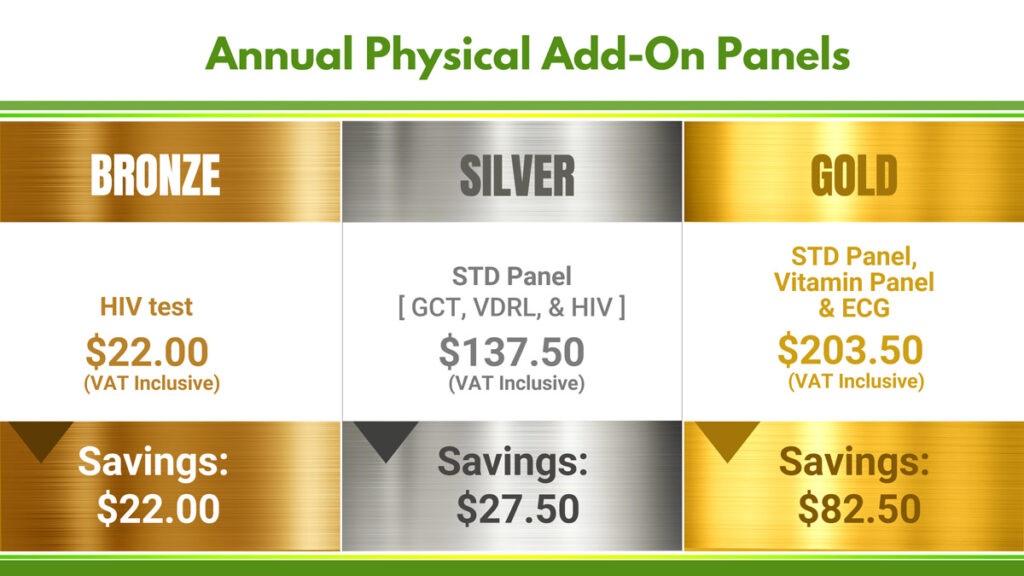 LabWork Package Add-Ons
(Package prices are VAT inclusive)
BRONZE
Includes physical exam and routine testing...
PLUS
• HIV test
Additional cost: $22.00
Total Package Costs:
Women, including PAP: $475.05
Men, including PSA: $469.55
Men/Women, no PSA/PAP: $398.05
---
SILVER
Includes physical exam and routine testing...
PLUS
• STD Panel* 
Additional cost: $137.50
Total Package Costs:
Women, including PAP: $590.55
Men, including PSA: $585.05
Men/Women, no PSA/PAP: $513.55
---
GOLD
Includes physical exam and routine testing...
PLUS
• STD Panel* 
• Vitamin Panel* 
• ECG
Additional cost: $203.50
Total Package Costs:
Women, including PAP: $656.55
Men, including PSA: $651.05
Men/Women, no PSA/PAP: $579.55
---
*STD Panel includes: HIV, chlamydia, gonorrhea, trichomonas
Vitamin Panel includes: B12, iron, folic acid, vitamin D