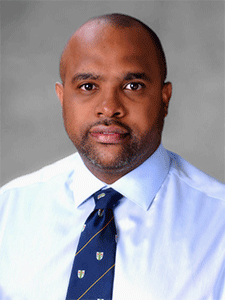 Adult and Pediatric Surgeon
Dr. Knowles specializes in adult and pediatric surgery, including simple procedures such as circumcisions, hernias, breast biopsies, lumps and bumps, hemorrhoidectomies, and endoscopies. He also performs major surgeries, which include appendectomies, cholecystectomies, colonic resections, and mastectomies.
Dr. Knowles performs complex pediatric procedures, which include esophageal replacement, anti-reflux surgery, pediatric urology, and advanced pediatric colorectal surgery, in patients from birth to age 18.
He also provides antenatal consulting for congenital abnormalities detected by ultrasound during pregnancy.
Dr. Knowles received his medical degree at The University of The West Indies in Jamaica and completed his General Surgery Residency and subsequent Pediatric Surgery Fellowship at The University of Cape Town, Cape Town, South Africa and Great Ormond St. Children's Hospital, London, England.
He has gained additional extensive training and experience in advanced pediatric colorectal procedures and advanced minimal invasive pediatric surgery at the Colorectal Center for Children, Cincinnati Children's Hospital, University of Cincinnati and Boston Children's Hospital, Harvard Medical School.
Dr. Knowles is a Fellow of the College of Surgeons of South Africa, a Member of The British Association of Pediatric Surgeons and a Member of The International Pediatric Endosurgery Group. He is also a member of the European Pediatric Surgery Association and a Fellow of The American College of Surgeons.
---
He is the first Bahamian Pediatric Surgeon, and is focused on providing the highest level of clinical care.
~ Marc A. Levitt, M.D.
Chief, Division of Colorectal and Pelvic Reconstruction | Professor of Surgery and Pediatrics | Children's National Hospital and The George Washington School of Medicine, Washington DC, USA
---