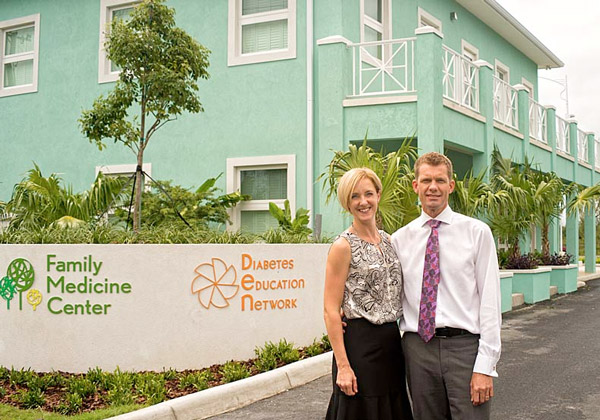 At Diabetes Education Network (DEN) we improve the quality of life for people with diabetes through education, innovative management, and customized attention.
With the right information, management, and support living with diabetes is so much easier.
It matters to people with diabetes and those who love them.
The Diabetes Education Network was established in 2011 to address the overwhelming need in The Bahamas for quality treatment and care for people with Diabetes or at risk of diabetes.
Leading the way in diabetes treatment and education in The Bahamas, DEN offers compassion combined with research-based care.
Our Mission
To prevent and treat Diabetes in The Bahamas.
Our Vision
To reduce the number of new cases of diabetes and to empower people with diabetes to lead a healthy life.
Who created DEN?
Anita Cates RN, CCDE.
Anita, born and raised in the UK, married Dr Graham Cates who whisked her off to the Sunny Islands to live happily ever after in the Bahamas. Anita and Dr Cates have their own medical practice, Family Medicine Center, Nassau, New Providence.
It is here that Anita recognised the need for Diabetes Education, not just as a one-on-one consultations, but in the form of a support group – Diabetes Directions – and educational workshops including Workshop 101.
Anita has a burning passion for people with Diabetes and she is flipping the Illness Model of Diabetes Care and Education on its head and turning it into a wellness model. This will empower people who live in the Bahamas, regardless of race, nationality, or age to take control of their Diabetes and to live a long and healthy life so they can achieve their dreams and potential.