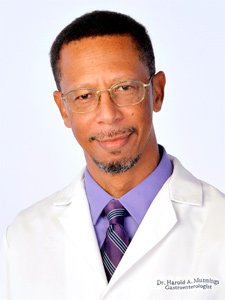 Gastroenterologist
Dr. Harold Munnings, MBBS FRCP FACG was educated at McGill University at the University of the West Indies and at Bristol Royal Infirmary.
He is a Fellow of both the Royal College of Physicians of London and the American College of Gastroenterology. He is also a member of the American Society for Gastrointestinal Endoscopy, the Association of West Indian Gastroenterologists and the Florida Gastroenterologic Society.
Dr. Munnings is the medical director of The Centre For Digestive Health. He, and his medical team, have partnered with Family Medicine Center to make their services more accessible to people on the western side of New Providence. They provide specialist consultations, endoscopy, colonoscopy and other services at Family Medicine Center on Blake Road.
The Centre for Digestive Health has been a leader in gastroenterology in The Bahamas since 1997, providing expert consultation, evaluation and treatment in all aspects of gastrointestinal, pancreatic and liver disease in both adults and children.