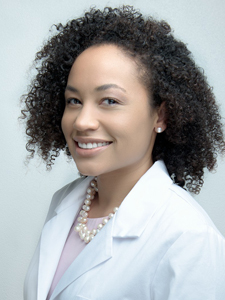 Family and Sport Medicine Physician
Meredith was born in the Bahamas and resided here until she moved to the US to attend Emory University in Atlanta, where she obtained a Bachelor's of Science in Biology. She then received her medical degree at Thomas Jefferson Medical College in Philadelphia.
She is American Board Certified in both Family Medicine and Sports Medicine. She completed her residency in Family Medicine at the University of Miami/Jackson Memorial Hospital, where she also completed her Sports Medicine fellowship in Primary Care Sports Medicine.
She is excited to join Family Medicine Center to provide primary care needs, as well as assist injured athletes in returning to their sport, and aid non-athletes in remaining physically active. She offers rehabilitation oversight with Family Medicine Center's team of physical therapists, and plasma rich platelets (PRP) therapy for musculoskeletal related conditions. 
In addition to Family Medicine and Sports Medicine, Meredith completed training in Botox and dermal fillers at the Esthetic Skin Institute in Fort Lauderdale.
Meredith's hobbies include running and art.
Call 702-9310 to schedule an appointment
Scope of Services
• Non-operative care of sports-related injuries
• Musculoskeletal ultrasound
• Ultrasound-guided injection therapies (including platelet rich plasma and viscosupplementation)
• Concussion evaluation and management
• Arthritis
• Children's Sports Injuries
• Acute injuries such as ankle sprains, muscle strains, knee and shoulder injuries, joint injuries, dislocations
• Overuse injuries (such as rotator cuff and other forms of tendonitis, stress fractures)
• Tendonitis
• Osteoarthritis (including injection therapies)
• Acute illnesses (mononucleosis, asthma) in athletes
• Exercise prescriptions for people who want to become more active
• Sport Injury prevention
• "Return to play" decisions for injured or ill athletes
• Pre-participation physical examinations
• Exercise and healthy lifestyle promotion