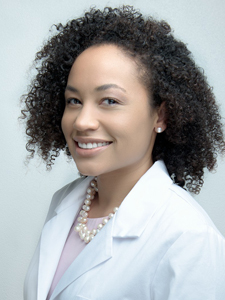 Family and Sport Medicine Physician
Meredith was born in the Bahamas and resided here until she moved to the US to attend Emory University in Atlanta, where she obtained a Bachelor's of Science in Biology. She then received her medical degree at Thomas Jefferson Medical College in Philadelphia.
She is American Board Certified in both Family Medicine and Sports Medicine. She completed her residency in Family Medicine and fellowship in Primary Care Sports Medicine at the University of Miami/Jackson Memorial Hospital.
At Family Medicine Center, she provides primary care needs, as well as assists injured athletes in returning to their sport, and aids those who consider themselves "non-athletes" in remaining physically active. She offers rehabilitation oversight with Family Medicine Center's team of physical therapists, and Ultrasound guided joint and tendon injections with corticosteroid, hyaluronic acid and plasma rich platelets (PRP) for musculoskeletal related conditions.
Dr. Turner has an interest in osteoarthritis research. She was first author on a systematic review entitled "The Role of Resistance Training Dosing on Pain and Physical Function in Individuals with Knee Osteoarthritis," which was published in Sports Health Journal and subsequently won best systematic review in that journal for 2021.
She is also committed to diversifying medicine and improving disparities in health and exercise amongst minorities. She was the first recipient of the American Society of Sports Medicine Diversity Interest Group's Jason Davenport Scholarship Award for her research abstract in 2019. She also presented on the topic "The Challenges of Exercise in Minorities" at the American Society of Sports Medicine's Annual meeting in 2022.
Furthermore, Dr. Turner has remained involved in educating the public on the importance of physical activity during the COVID-19 pandemic. She co-authored the American College of Sports Medicine's Call to Action Statement titled "COVID-19 Considerations for Sports and Physical Activity" published in Current Sports Medicine Reports in 2020. She also wrote a ACSM electronic post on "Safe Return to Physical Activity after COVID-19."
Dr. Turner also completed training in Botox and dermal fillers at the Esthetic Skin Institute in Fort Lauderdale.
Call 702-9310 to schedule an appointment
Scope of Services
• Non-operative care of sports-related injuries
• Musculoskeletal ultrasound
• Ultrasound-guided injection therapies (including platelet rich plasma and viscosupplementation)
• Concussion evaluation and management
• Arthritis
• Children's Sports Injuries
• Acute injuries such as ankle sprains, muscle strains, knee and shoulder injuries, joint injuries, dislocations
• Overuse injuries (such as rotator cuff and other forms of tendonitis, stress fractures)
• Tendonitis
• Osteoarthritis (including injection therapies)
• Acute illnesses (mononucleosis, asthma) in athletes
• Exercise prescriptions for people who want to become more active
• Sport Injury prevention
• "Return to play" decisions for injured or ill athletes
• Pre-participation physical examinations
• Exercise and healthy lifestyle promotion