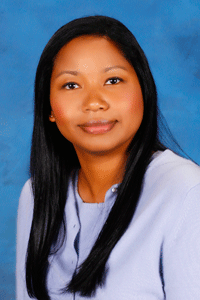 Internal Medicine and Clinical Infectious Disease Specialist
Dr. Nikkiah Forbes is the Director of the National HIV/AIDS and Infectious Disease Programme at the Bahamas Ministry of Health. She is a Consultant in Infectious Disease at the Princess Margaret Hospital and Doctors Hospital and a Clinical Tutor at the University of the West Indies, School of Clinical Medicine and Research (SCMR), Bahamas.
Dr. Forbes graduated medical school from The University of the West Indies with honors in surgery and was the first recipient of the SCMR's Cecil Bethel Award as the top graduate in her class in 2002. During her postgraduate specialty training in Internal Medicine, she was appointed the Chief Resident in Medicine at the University Hospital of the West Indies, Kingston, Jamaica.
After residency, Dr. Forbes completed a fellowship in Infectious Diseases at the University of the West Indies Faculty of Medical Sciences, Kingston, Jamaica, in conjunction with the University of South Carolina, School of Medicine. Dr. Forbes is the focal point for infection prevention and control, and antibiotic stewardship in The Bahamas.
She is actively engaged in medical research and presents her work at national, regional and international scientific meetings. Dr. Forbes is a member of the American College of Physicians, Infectious Disease Society of America, Society for Healthcare Epidemiology of America and HIV Medical Association.
Call 702-9310 to schedule an appointment
Scope of Services
Dr. Forbes offers comprehensive specialized consultations and care to all patients with infectious diseases including:
• Specialty based evaluation, diagnosis and treatment of all infections
• Offers office and hospital care/out-patient and in-patient basis
---
Dr. Forbes has extensive training and experience in managing infections including:
Bacterial infections, viral infections, skin and soft tissue infections, gastrointestinal infections, chronic or slow healing wounds, fungal infections, implantable device infections, the flu and other respiratory infections, HIV, hepatitis, tuberculosis, sexually transmitted infections, antibiotic resistant infections and other complex conditions such as chronic bone and joint infections/orthopedic infections and other infections and complications from surgery.
---
She treats new emerging infections, for example COVID-19
• diagnosing and treating rare and particularly difficult infections
• offers medical infusion services
• long term treatment plans for patients with infections such as HIV and hepatitis
---
Dr. Forbes works closely with other primary care providers and specialists to design treatment plans tailored to meet patients unique needs
If a patient requires hospitalization for treatment of infection, we can manage care.
She offers adult specialty internal medicine care also, inclusive of preventative care, diabetes, high blood pressure/hypertension, routine primary care and in depth care for chronic illnesses.
Dr. Forbes is a fellow of the American College of Physicians and Member of the Infectious Diseases Society of America.
She is an associate lecturer at the University of the West Indies School of Clinical Medicine and Research in The Bahamas