Family Medicine and Geriatric Specialist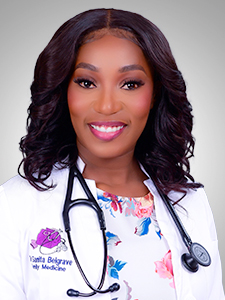 Dr. Sanita Belgrave-King is a Family Medicine and Geriatric Specialist practicing out of the beautiful island of New Providence, the Bahamas. Her medical career started at the Queen Elizabeth Hospital in Barbados and after much dedication, she was awarded the honor of Outstanding Intern of the Year, in 2013.
She then advanced to Senior House Officer in the Internal Medicine Department at the Rand Memorial Hospital in Freeport, Grand Bahama, and later to the Family Medicine Department at the Princess Margaret Hospital in Nassau, New Providence.
It was at this pivotal moment in her life, that she also gained experience in the United States of America through an Exchange Program at Baptist Health South Florida Hospital. She then went on to secure a Diploma in Family Medicine with Distinction, a Diploma in Geriatric Medicine with Distinction, and a Doctorate in Family Medicine.
Dr. Belgrave-King has dedicated the last ten years of her medical career to the service of others and her most life-changing memories included volunteering with the National Disability Unit in Barbados, prostate cancer screening with Us Too Bahamas Chapter, and working in the aftermath of Hurricane Irma and Dorian in the Bahamas.
The vulnerability of the older population struck her the most and so her sub-specialty focuses on advocating for the health and well-being of older persons.
Outside of medicine, she has a heart for reading, traveling, and spending time with family and friends.