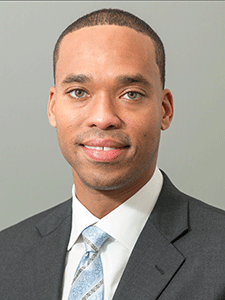 Interventional Radiologist
Mikhail C.S.S. Higgins, MD MPH, is our country's first board-certified fellowship-trained Interventional Radiologist (IR), specializing in image-guided minimally invasive interventions. He is a native of Nassau, Bahamas, having graduated from Queen's College in 2000, where he was both Gentleman of the Year and Valedictorian for the Alpha Phi Alpha Honor's Day Convocation. He is a former 400-meter Hurdler for the Bahamas' Junior National Team.
He received his bachelor's degree with Honors from Macalester College (Saint Paul, MN), and an MD from Wake Forest University School of Medicine with Distinction. He holds an Advanced Professional MPH with a concentration in Health Care Policy and Health Care Administration from Yale University. He completed a residency in Radiology as well as a 4th year concentration in Interventional Radiology (IR) at the Hospital of the University of Pennsylvania. He completed a fellowship in IR at the University of Virginia and is a diplomat of the American Board of Radiology in Diagnostic and Interventional Radiology.


---
Dr. Mikhail Higgins is the country's first board-certified fellowship-trained Interventional Radiologist. He is on the Family Medicine Center medical team, offering specialised treatments previously unavailable in The Bahamas.
---
He is the Founding Chair of RISQCS (Radiology Interventions Safety Quality and Complications Symposium), a dedicated medicolegal, patient-safety, and risk management IR educational initiative for medical students, IR trainees and practicing IR's, and which has been endorsed by the Society of Interventional Radiology. He is a 2021 recipient of Boston University's Ignition Award as well as a 2021 inductee into Boston University Medical Group's Clinical Excellence Society.
Some of his professional minimally invasive expertise include women's health including endovascular management of uterine fibroids, adenomyosis and pelvic congestion syndrome, prostate artery embolization for benign prostatic hyperplasia (BPH) and acute urinary retention, vascular interventions for peripheral artery disease, varicocele, deep vein thrombosis (DVT), varicose veins, compression fractures, liver and renal tumors.
Dr. Higgins is a member of the Alpha Omega Alpha Honor Medical Society. He has received numerous awards for his performance in medical and graduate school including the Isadore Meschan Award for Academic Excellence in Radiologic Sciences (Wake Forest School of Medicine), Outstanding Community Service Award (Yale University), and the Cortlandt Van Rensselaer Creed Award (Yale School of Public Health). He is the founder and former managing editor of OASIS, an anthology journal for medical students he created at Wake Forest University.
He is the cofounder of the UPHS-CHOP Alliance of Minority Physicians (AMP), a grant and multi-institutional funded diversity and inclusion enhancement coalition of the University of Pennsylvania Health System Hospitals (UPHS) and the Children's Hospital of Philadelphia (CHOP). He was nominated by AuntMinnie.Com as Semifinalist for Most Influential Radiology Researcher in 2020. He is the Vice Chair of the American College of Radiology's (ACR) Appropriateness Criteria expert panel on Interventional Radiology as well as a member of the ACR Commission on Women and Diversity.

 He has extensive experience mentoring underrepresented high school and college students. In his personal time, he serves as a certified yoga instructor as well as a high-performance coach for professional athletes and other performance-minded individuals.
Learn more about our Interventional Radiology Services
Call 702-9310 to schedule an appointment