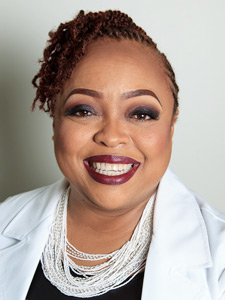 Obstetrics and Gynecology
Dr. Nina Graham specializes in Obstetrics and Gynecology.
She is passionate about women's health and well-being and is dedicated to providing quality, comprehensive women's health care services.
Dr. Graham obtained a Bachelor of Science degree in Biology from Marymount Manhattan College in New York and a Bachelor of Medicine and Surgery from the University of the West Indies in Trinidad. Subsequently, she obtained a Doctorate of Medicine in Obstetrics & Gynecology and certifications in first trimester ultrasound, colposcopy, and forensic gynecology.
Affiliated with the Princess Margaret Hospital (PMH) and Doctor's Hospital, Dr. Graham offers women's wellness exams, routine gynecologic exams, obstetrical care (including high-risk pregnancy), pregnancy planning, contraception including tubal ligation, management of infertility, menopausal symptoms, abnormal pap smears and early gynecologic malignancies.
She is employed in the area of Gynecologic Oncology at PMH and is the coordinator of the South Beach Colposcopy clinic. She is also responsible for teaching colposcopy to medical students, interns, senior house officers and registrars.
Dr. Graham is a proud Bahamian and is very passionate about patient education and primary prevention. She encourages regular well-women check-ups because of her belief in the importance of early detection.
When asked "What distinguishes your practice from others, Dr. Graham answered, "Our personal touch, personalized, individual care, easy accessibility and our well-qualified and caring staff."
Call 702-9310 to schedule an appointment