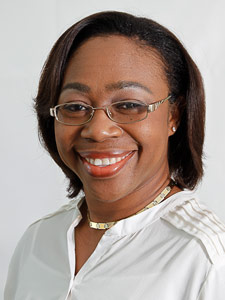 Pharmacist
R.Ph Bsc. Msc Pharm
Pharmacy Manager/Co-ordinator
Family Medicine Center Pharmacy
Sidnell Wilmore is a Certified Registered Pharmacist who has over 15 years of experience in Pharmaceutical care. She has training in both the public and private sector.
She was locally educated under the tutor ledge of Vivienne Lockhart, Vanria Rolle and the late Pedro E. Roberts Sr. She received her Certificate of Competency in June 1999. She then received her Licensure and Certification as a Registered Pharmacist. She went on to receive a Bachelor of Science Degree in Pharmacy and a Master's Degree in Clinical Pharmacy.
Mrs. Wilmore is the Pharmacy Manager/Coordinator at Family Medicine Center Pharmacy. She is an advocate of giving back to the community. She is a member of the Bahamas Pharmaceutical Association. And also an active member of her church.
Find out more about the Family Medicine Center Pharmacy
FMC/DEN: 702-9310
Family Medicine Center Pharmacy: 702-9300