Family Medicine Center provides American Heart Association CPR and First Aid courses. We offer classes for individuals with no previous training, for businesses and groups, and for parents and caregivers. If you would like to schedule a class please contact Rhonda Higgs 702-9310.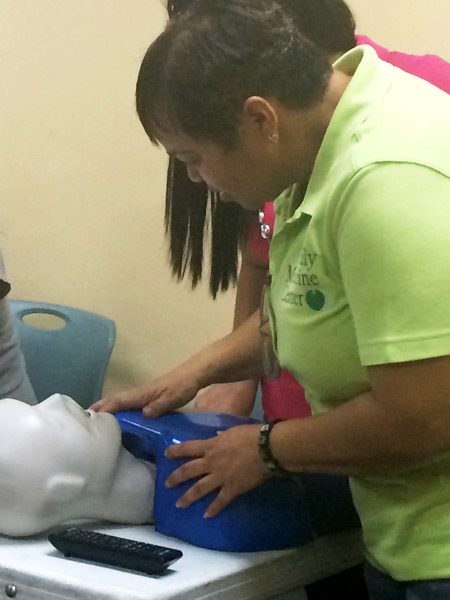 Heartsaver® CPR AED is a classroom, video-based, instructor-led course that teaches adult CPR and AED use, as well as how to relieve choking on an adult.
This course teaches skills with AHA's research-proven Practice-While-Watching (PWW) technique, which allows instructors to observe the students, provide feedback and guide the students' learning of skills.
This course is for anyone with limited or no medical training who needs a course completion card in CPR and AED use to meet job, regulatory or other requirements.
Key changes reflecting the new science from the 2010 American Heart Association Guidelines for Cardiopulmonary Resuscitation and Emergency Cardiovascular Care
Adult CPR and AED use
Optional modules in child CPR and AED use and infant CPR, including child and infant choking
Optional written test
The course format is Classroom-based (instructor and video, with skills conducted throughout)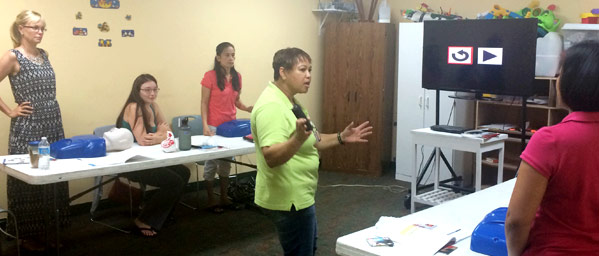 Features
Video-based course ensures consistency
Instructor-led, hands-on class format reinforces skills proficiency
Course is updated with the new science
Course completion card or certificate
Upon completion of this course, students receive an American Heart Association Heartsaver CPR AED Course Completion Card that is valid for two years.
During the course, an AHA Instructor conducts video-based lessons and works with students to complete their CPR and AED skills practice and testing.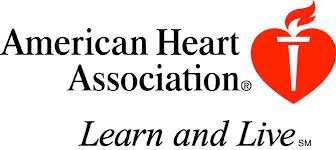 Click here for Frequently Asked Questions About CPR And First Aid (PDF)
Please contact Rhonda Higgs to book your class today at 702-9310
Instructors are qualified under the American Heart Association
________________________________________________________________________________________________
On-site Classes For Businesses and Groups:
We can provide on-site training for companies, corporations and civic groups. Contact Rhonda Higgs to arrange a class at your location: 702-9310.
________________________________________________________________________________________________
DISCLAIMER
The American Heart Association strongly promotes knowledge and proficiency in all AHA courses and has developed instructional materials for this purpose. Use of these materials in an educational course does not represent course sponsorship by the AHA. Any fees charged for such a course, except for a portion of fees needed for AHA course materials, do not represent income to the AHA.