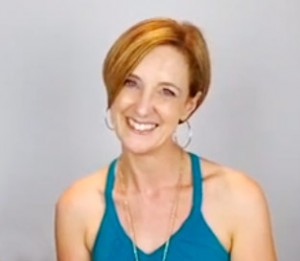 A study, published in the Archives of Dermatology, showed about 40 percent of women skip exercising because they don't want to mess up their hair.
Okay I know, your hair is important. Who wants to get it messed up during exercise. But really, can your hair come before your health? Watch the video for a few quick tips…

Healthy, beautiful hair can be easily attained when a woman's body is healthy. While many factors attribute to health, exercise improves circulation, strengthens the body and helps to balance hormone levels.
Hormone imbalance can lead to all sorts of hair problems, like too much hair growth or hair loss. But conditions like poor circulation or diabetes can also cause hair loss. That's why it is important to stay active throughout your life to protect your health and keep you feeling and looking your best.
Cardio exercises that increase the heart rate for at least 20 minutes, improve circulation by speeding up the flow of blood throughout the body. This blood flow gives oxygen to all of the cells thus improving the health and condition of every part of the body, including the hair.
While excessive exercise has been blamed for certain types of hair loss, a healthy exercise program will promote health and fitness for the entire body.
Black Hair and Exercise
Exercise is great for your health. But if you are African American, it's not so great on your hair.
Don't exercise with your hair under a scarf or hat, especially if you are prone to heavy sweating. This only causes more irritation to your finished results by locking in moisture, leaving your hair wet. Cotton scarves, hats, headbands can cause friction on your hairline, which over time can lead to breakage. If you use something to hold your hair in place, use satin or silk – materials better suited for your hair.
Straightened Hair? Wrapping it up with a breathable hair net will work best. This keeps your hair in place, while allowing the perspiration and heat created at the scalp area during exercise to escape. It's also best to keep your hair tied up until your scalp area has fully dried.
Curly Hair? Pin curling your hair while you exercise and leaving them in place until your scalp dries will help your curls' durability.
Ponytails for Working Out? Be sure to move the position of the ponytail around; keeping your ponytail in the same spot may cause breakage over time.
Hair extensions? Thoroughly rinse and shampoo your scalp area on the last day of your weekly exercise routine. It's important to note that the base of your hair extensions should be completely dry before styling in any manner.
Natural, but Pressed? Tie a two-inch wide satin band around the hairline while working out and leave it in place until the hairline dries; this will help keep that area smooth.
You want to look good while you're exercising but at the end of the day, exercise is far more important. 
Remember, it's about being healthy because that's what makes you beautiful.