Is your family ready for an emergency? Planning ahead can help keep you safe if a flood, fire, flu pandemic or other emergency strikes.
Get prepared. Start by gathering an emergency kit and making a family emergency plan. Find out about the emergency resources that are available in your community.
Plan ahead. Here are a few simple items you can gather today to prepare for an emergency:
    At least 3 gallons of water for each member of your family
    Food for at least 3 days – choose foods that don't need a refrigerator, like canned fruit, energy bars, peanut butter, and crackers
    Prescription medicines that you take every day, like heart or diabetes medicine
    A first aid kit to treat cuts, burns, and other injuries
It's not just about emergencies though…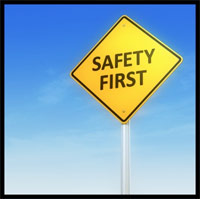 Remember to practice safety at all times – at work, at home, at school, when you are driving.
For example, a new study has confirmed that driving and talking on a cell phone is dangerous – even just having a phone conversation.
Everyday choices greatly impact one's health. Whether it's riding a bike to work or opting for a light salad at lunch, the key to a better lifestyle starts with each individual.
One growing public health issue that has reached epidemic levels is prescription drug abuse. In fact, 45 people die every day from overdoses of prescription painkillers.
Use these tips to safety use and protect your medications:
    Never share your medications with anyone
    Store medications in their original containers and keep them up, away and out of sight—particularly from children
    Properly dispose of unwanted medications to prevent theft or misuse by others
    If your doctor prescribes you painkillers, be sure to read warning labels carefully and take only as directed
Read more about how to stay safe