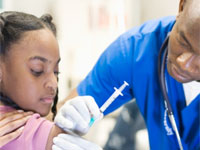 Vaccination against the cancer-causing human papillomavirus (HPV) is proving highly effective in reducing the spread of the sexually transmitted virus among young women, new research shows.
The rate of new infections with strains of HPV targeted by the vaccine have dropped by 56 percent among females aged 14 to 19 since the first vaccine was approved in 2006, report researchers at the U.S. Centers for Disease Control and Prevention.
According to the CDC, HPV infection is known to be the major cause of cervical cancer, and has also been strongly linked to vulvar, vaginal, penile, anal, and certain throat/oral cancers.
The new findings "are striking results, and I think they should be a wake-up call that we should increase vaccination rates, because we can protect the next generation of adolescents and young girls against cancer," CDC director Dr. Tom Frieden said in a press conference held Wednesday.
The findings are published in the June issue of The Journal of Infectious Diseases.