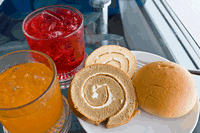 Snacking on sweet treats like biscuits, cakes and fizzy drinks has been linked to bowel cancer, a UK study says.
The research is the first of its kind to reveal a positive connection between the disease and a diet high in sugar and fat.
A team from Edinburgh University looked at risk factors such as level of physical activity, smoking and diet.
Scientists examined more than 170 foods, including fruit, vegetables, fish and meat, as well as high-energy snack foods such as chocolate, nuts, chips and fruit drinks.
They reported links with some established risk factors of colorectal cancer – a family history of cancer, low exercise and tobacco.
The team also identified new factors, including high intake of high-energy snacks and sugar-sweetened drinks.