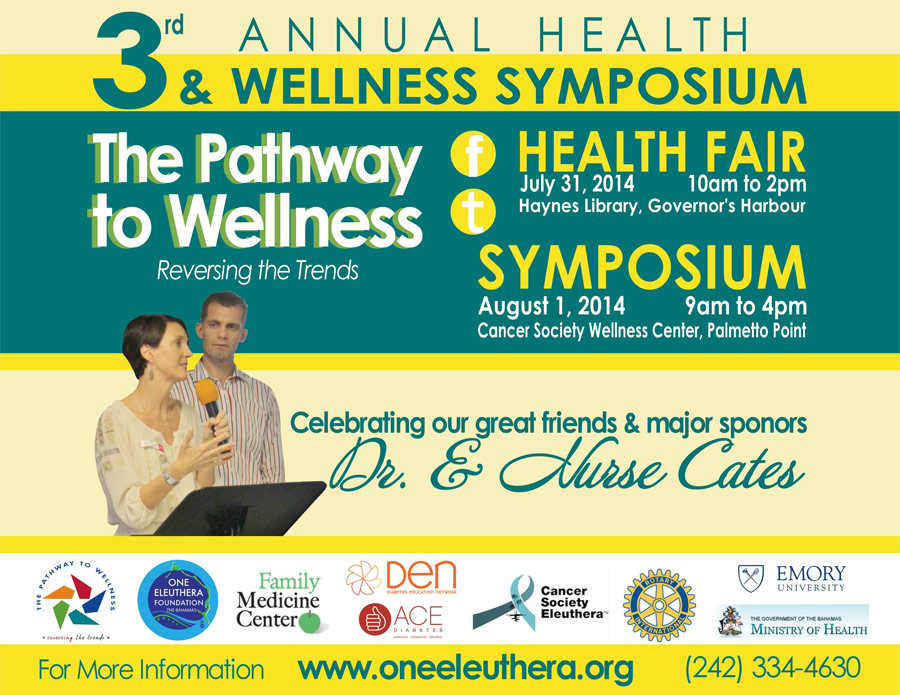 Sixty percent of all deaths in The Bahamas are a result of Non Communicable Diseases NCDs (disease that can be prevented or treated). Knowledge of health issues, a healthy diet and physical activity are all important parts of living a full, healthy life and preventing/managing such diseases.
These are aspects of our lives that we must take in hand TODAY!
Take charge of your life and be a part of the history being made to improve your health and the health of your fellow Eleutherans/Bahamians.
Register NOW to attend One Eleuthera Foundation's 3rd Annual Pathway to Wellness Symposium, focused on Diabetes, sponsored by Family Medicine Center.
EVENTS
Thursday, July 31st, 2014 – 10:00AM to 2:00PM
Health Fair
Haynes Library
Governor's Harbour, Eleuthera
Thursday, July 31st, 2014 – 6:00PM to 8:00PM
Welcome Reception
Cancer Society Eleuthera Wellness Center
Palmetto Point, Eleuthera
Friday, August 1st, 2014 – 9:00AM – 4:00PM
Health & Wellness Symposium Sessions
Cancer Society Eleuthera Wellness Center
Palmetto Point, Eleuthera