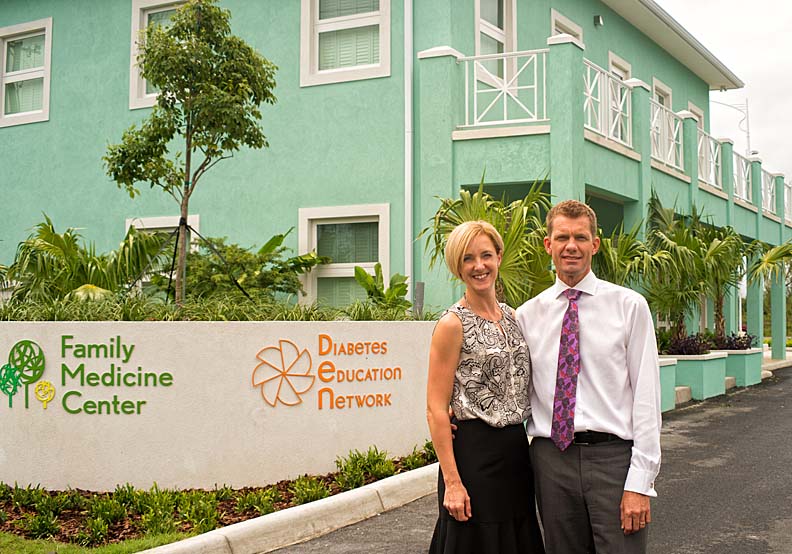 Family Medicine Center and Diabetes Education Network are ushering in a new era of healthcare having just opened the doors of their freshly-constructed facility on Blake Road earlier in September.
"This building is more than a bunch of shiny new rooms; it is a symbol of our enduring commitment to our patients and the community. It makes it possible for us to do more and provide more," said Dr. Graham Cates, Family Medicine Center's founding physician. "For over a decade, patients have come to FMC and DEN trusting us to provide the highest quality patient-centered care. This new facility will allow us to help even more patients in a more comfortable and efficient environment supported by the latest technology."
Family Medicine Center offers general and preventative medicine as well as other medical specializations, like endocrinology, rheumatology, counseling, and nutritional therapy services.
New services at the 5400 square foot center include an on-site pharmacy, pediatrics, nephrology, and an expanded training center, which will provide education programs focusing on diabetes care and support, CPR/First Aid, healthy coping skills, healthful living programs and nutrition management.
Family Medicine Center is currently the only full wellness service that integrates education with medical support such as nurse educators, psychology, laboratory, and other medical services all in one location.
"As we move forward with Family Medicine Center, Diabetes Education Network (DEN) and all our other services, we recognize that we need to rebrand to better reflect our approach to medicine and healthcare," said Nurse Anita Cates. "Over the past 11 years Dr. Cates and I, along with our medical team, have been focused on preventative healthcare. In the medical world this has a new name. Lifestyle Medicine."
The field of medicine has been shifting over the past two decades with an ever-increasing focus being placed on wellness and prevention. This approach is becoming more scientifically acknowledged as an essential component in the treatment of chronic disease, such as high blood pressure, diabetes, heart disease, obesity, osteoporosis, high cholesterol and even cancer.
"Many people don't realize that several diseases, including chronic conditions, are manageable, even reversible, with a healthy diet and lifestyle," said Nurse Cates.
Modern medicine is primarily reactive and the lifestyle factor rarely receives the level of attention it should. However, 70 to 80 percent of chronic disease conditions are directly attributable to lifestyle, making lifestyle the most important factor in medical treatment.
Reports and studies have shown that more people die from cancer, heart disease and diabetes than from anything else in most regions of the world. Non-communicable diseases account for 65% of deaths worldwide.
"Physicians HAVE to help patients construct healthier lifestyles. At Family Medicine Center and Diabetes Education Network, we will continue to progress more into lifestyle medicine, focusing on treating a patient's overall health as opposed to isolated conditions," said Dr. Graham Cates.
Family Medicine Center treats all ages, ranging from infants to senior citizens, and offers basic medical services as well as specialized services. Health care professionals are on the front lines of the battle against obesity, diabetes and other chronic diseases and the best line of defense is to ensure that patients have the education and tools to practice healthy lifestyles. This is what the team at Family Medicine Center, Diabetes Education Network and ACE Diabetes have always done and will continue to do as they strive to usher in a new era of health in the Bahamas.
"Prevailing practice and lifestyle medicine must work together to balance the benefits of each and to result in the best outcomes for patients. More lives can be saved, more cost effectively, if greater emphasis is placed on lifestyle rather than on traditional chronic care solutions," said Dr. Cates.
For more information visit call 327-2878.
Caption: Dr. Graham Cates and wife, Nurse and Health Educator Anita Cates stand in front of the new Family Medicine Center/ Diabetes Education Network building on Blake Road.