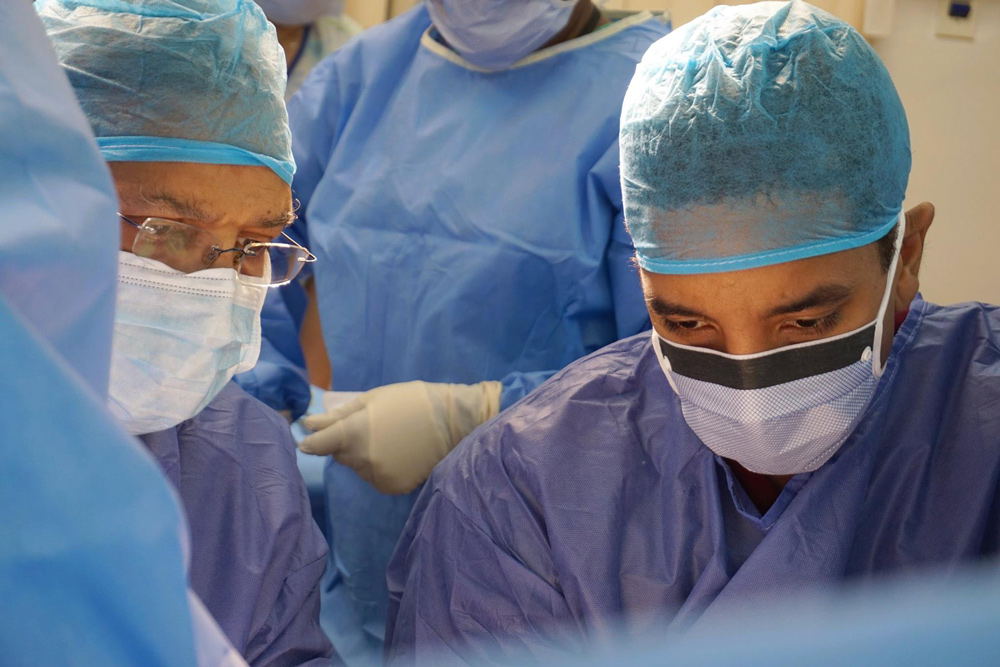 The very first Artificial Urethral Sphincter Surgery was conducted at Doctors Hospital, Nassau, Bahamas by Bahamian Urologist Dr Greggory Pinto on Tuesday, December 12.
An Artificial Urethral Sphincter is a technologically advanced small implantable device that allows patients with a non-functioning or poorly functioning native urethral sphincter, to regain control of their urine flow and take back control of their lives and happiness.
Dr Pinto, who recently returned to the Bahamas, is a surgical specialist Fellow of Urethroplasty and Urological Reconstruction Surgery under the tutelage of world renowned Surgical Urologist Professor Sanjay Kulkarni.
Professor Kulkarni developed the Kulkarni urethroplasty surgical technique in 2009 which has revolutionized urethroplasty surgery and is used extensively by urologists around the world.
Professor Kulkarni was in Nassau to observe and commemorate this ground breaking surgical event in the Bahamas.
One in six men worldwide will develop prostate cancer in their lifetime and early diagnosis and treatment is important for cure.
Unfortunately, the curative treatments for prostate cancer can lead to severe urinary incontinence; with leaking of large quantities of urine with any activity or movement.
Severe stress urinary incontinence can significantly reduce the quality of life, and many such patients withdraw socially and often are sad from continual use of a catheter and urine bag or adult undergarments.
These men may develop social awkwardness, a restricted lifestyle and lack sexual intimacy.
Following this surgery, the patient will be catheter free and have complete urinary control for the first time in many years. The artificial urethral sphincter restores self confidence and allows for freedom to enjoy everyday activities such as swimming and exercise.
The recipient of the first Artificial Urethral Sphincter in the Bahamas is a fifteen-year prostate cancer survivor.
This epic surgical achievement in the Bahamas by Bahamian urologist Dr Greggory Pinto is one of many artificial urethra sphincter surgical cases that he has planned for the Bahamas.
Doctors Hospital remains on the cutting edge in providing surgical innovations and advancements and as an institution is dedicated to providing world class state of the art surgery right here at home in the Bahamas.
---
Dr. Pinto is available for consultations at Family Medicine Center, where world-class urological services are now offered.