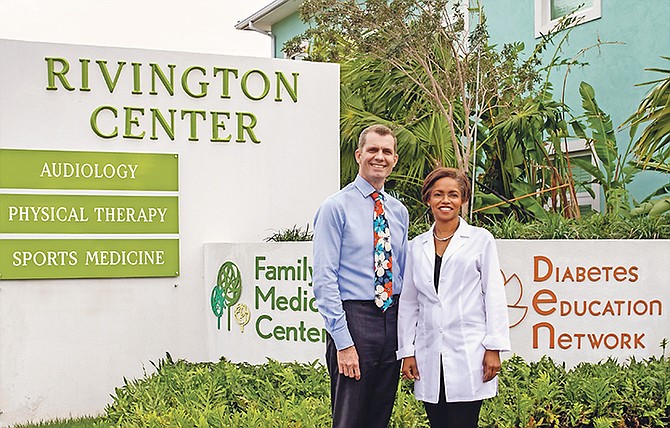 In taking the "whole person" approach to healthcare management, the Family Medicine Centre is officially opening its new expanded facilities which will bring many new medical services on board.
Also in association with this, the Impressions Dental Centre is opening a second location – the Impressions Oral Health Centre – just next door to the Family Medicine Centre on Blake Road. This new centre will provide specialised dentistry and dental care as part of a complete healthcare concept.
The Family Medicine Centre (FMC) and the Impressions Dental Centre are happy to collaborate in promoting overall healthcare in the country, and will be hosting a joint open house on Monday, March 2, to officially open both new facilities.
"We know that when it comes to patient care everyone has unique needs. Our professionally trained staff work to provide a detailed plan for better health and better living. We specialise in caring for the whole person," said Dr Graham Cates, medical director at the Family Medicine Centre.
Both he and his wife, Nurse Anita Cates, are excited to expand the centre's services to meet the health needs of the community. He said the FMC is focused on not just a patient's physical health, but also on their mental well-being.
"Our team includes a wide range of services including general medical health check-ups to specialist physician and on-site lab, radiology, physio, audiology and pharmacy. The expansion of our services has been lead by our patients' health needs. When our patients speak, we listen. We appreciate each and every patient's contribution to the growth of FMC," said Dr Cates.
Speaking of the collaboration with the Impressions Oral Health Centre, Dr Cates said as FMC believes in the care for the entire person, their relationship with Dr Annette Warren, principle dentist at Impressions Dental, has been a long standing one. He said collaborations with all healthcare professionals can have a great impact on the health of Bahamians.
Dr Warren said both facilities focus on patient education as a part of preventative health.
She said the natural link between the FMC and the Impressions Dental Centre allows for patients to recognise that oral health and their general health are interlinked and that ensuring optimal health in the oral capacity is essential for ensuring optimal overall health. She believes communication between the two are essential for determining appropriate healthcare programmes for the nation.
"For years, Dr Cates and I have been discussing the importance of oral health and its impact on overall health. Providence would have it be that my new practice is a stone's throw away from the Family Medicine Centre which enables us to truly have this collaboration come to fruition. It's a dream come true to be working with family practitioners and specialists at the Family Medicine Centre," said Dr Warren.
The philosophy at the Impressions Dental Centre, she said, embodies a comprehensive care approach to dentistry while focusing on patient comfort and individual needs. More recently, the dental team have taken up the charge to educate their patients on the research that continues to confirm disease in the mouth directly affects the overall health of an individual.
"When I look back on when I first started and where I am today, it's rewarding and at the same time, sobering considering the responsibility that comes with growth. Impressions Dental Centre opened its doors in June 1998. I started with a small dental office on Collins Avenue and my team consisted of me and one hygienist. The expansion to a second location out West is exciting and the fulfilment of a dream to provide exceptional care to a broader range of patients," said Dr Warren.
"I also look forward working closely with other specialists as we endeavour to make the Bahamas a healthier nation. There is power in community and collaboration. Together we can fulfill our vision of changing the lives of our patients," said Dr Warren.
Alesha Cadet
The Tribune