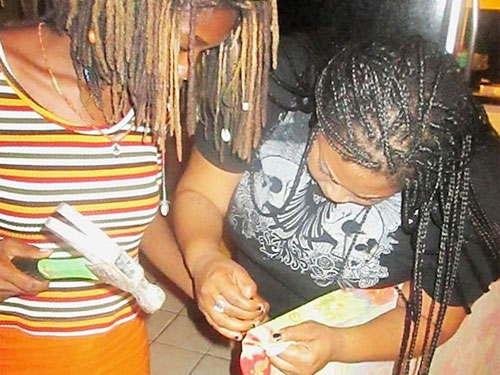 The artists of the Salus Project will present an exhibition reflecting their interpretation of domestic violence this Thursday. The "Get Out" exhibition will be held at the Ladder Gallery, New Providence Community Center on Blake Road at 7 pm.
Presented in partnership with Fujon Media Films, all of the pieces in the exhibition will be up for auction, the proceeds of which will be donated to the Bahamas Crisis Centre.
The Salus Project, a student art production, was created by Dr Graham Cates, medical director at the Family Medicine Centre, and his wife, Nurse Anita Cates. The duo brought the concept to life for young artists to express themselves in all five areas of wellness: spiritual, financial, physical, emotional and social.
Dr Cates told Tribune Entertainment: "We are so excited to be involved with this project. The Crisis Centre is doing a great job and with the help of the Salus Project we can increase the awareness of the impact of domestic violence in the Bahamas. The Salus Project through art is committed to engaging Bahamians in conversations that are often difficult to discuss or overlooked."
Patrice Lockhart-Stubbs of Fujon Media said: "We are seeing a hopeful resurgence of the government's efforts to put the equal rights of women and men to the people, the time therefore is now to address domestic violence. The expression of art has long since reflected the thoughts and feelings of a people. The upcoming art exhibition and 'Get Out' Film release are how we in the arts express ourselves against domestic violence in all its forms. Domestic violence is and has been almost a sub culture in the Bahamas and must be brought to the surface and eradicated," said Patrice.
In addition to the "Get Out" exhibition Patrice said there will also be a "Get Out" film release that is scheduled for November 2 at the Atlantis Imperial Ballroom, beginning at 7:30 pm. Part proceeds from the event will also go to the Crisis Centre.
"Our goal is to awaken and empower victims to get out of the situation and challenge abusers to reconsider their actions and seek help to change," said Patrice.
Salus Project artist June Colli, said her pieces will portray the celebration of life.
"I think people in these type of relationships don't realise their self worth and once they see how important they are then the healing and loving themselves will begin. Life is too short and beautiful to be unhappy," said June.
As domestic violence is a very depressing subject, June said she wanted her pieces to show the life a person can live when they "get out" of their situation.
My paintings show persons being selfish, and also not so selfish. It shows them loving and taking care of themselves. I feel this will generate positivity and love," said June.
She said the "Get Out" project will allow people to openly discuss domestic violence in the Bahamas and create awareness, and hopefully impact abusers in a behaviour changing way.
Another contributing Salus artist Yutavia George said her work represents not only the victims and the abusers, but also those in the wider circle who are affected like friends, family and co-workers.
"Our works describe feelings of emptiness, desperation, self loathing and freedom. Some of the works may make people feel uncomfortable, however, it is the response needed for action. Domestic violence is hidden in our country. No one really wants to talk about it because it's an ugly truth. Here, we create to investigate so that we can give those who have no hope, solutions; those who cannot speak, a voice; and for those who seem blind, perception," said Yutavia.
"The people or forms I paint seem very rough on the surface, yet they also have a sort of innocence about them, kind of like the way I see humanity. The works are mirrored images of us and how we feel. My works communicate a repressed message of desperation, hopelessness and guilt. I'm saying "get out" of that situation and feeling by showing the negative to project the positive," said Yutavia.
One of Yutavia's pieces, "Daze", is a mixed media composition on canvas that displays a little boy sitting in a tub.
"You cannot see his face because his back is turned and he is looking towards a tiled wall. Being only a sketch in ink and not knowing the full reality of the situation, he's in a daze because he is in the middle of a conflict that he has no control over. Although he is taking a bath, he seems to recognise the tension outside, symbolised by the paint's texture beyond his position on the picture plane. While working on this piece I meditated on how will he get out of this daze and what are the effects this environment will have on him, a child who is a direct link to the future," said Yutavia.
Other artists in the exhibition include Allan P Wallace, Edrin Symonette, Preston Hanna, Charlthorn Strachan, Jalan Monique, Deime Ubani, Piaget Moss and Richardo Barrett.
Alesha Cadet
The Tribune
Article published: Wednesday October 16, 2013