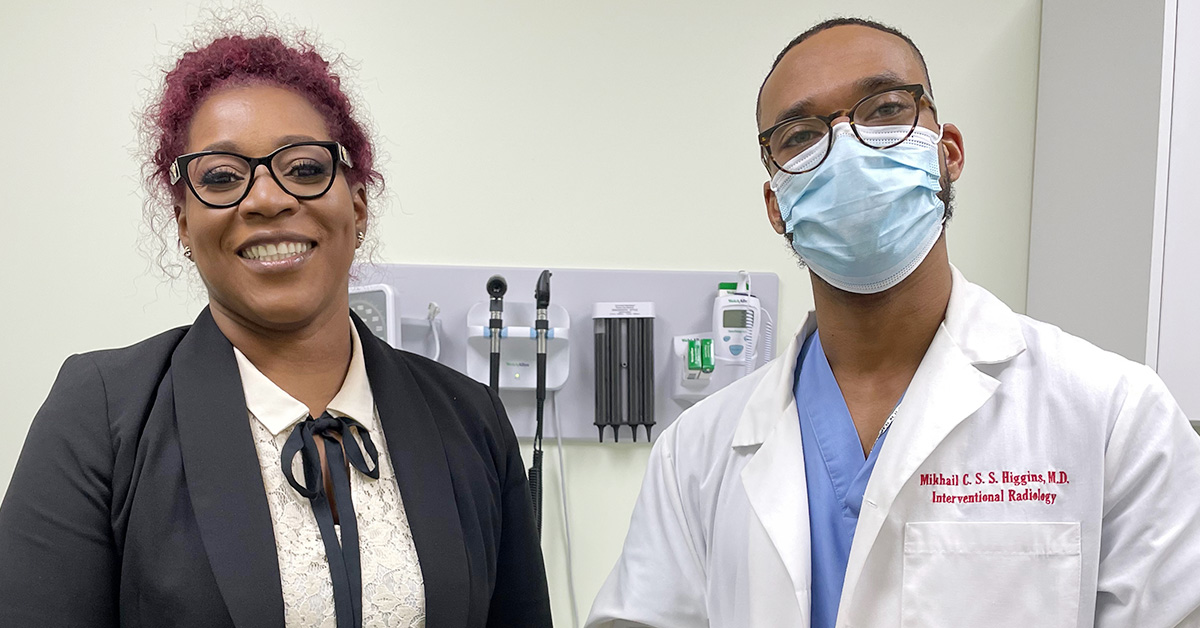 Tamisha Knowles shares her personal life-changing experience in treating her fibroids without surgery. The Uterine Artery Embolization procedure is a safe, minimally-invasive, innovative treatment for fibroids available in the Bahamas since July 2021 through Dr. Mikhail Higgins at Family Medicine Center.
It was winter 2016 during my routine annual checkup when I mentioned to Dr. Graham Cates and Dr. Tonya Roker-Davis about the excessive bleeding I was experiencing every menstrual cycle. The only way I could describe it to them was to say it felt like a water hydrant pouring out of me, non-stop.
I had become so accustomed to this, that I just accepted it as my normal.
However, this particular examination revealed that my blood levels were lower than usual, which raised concerns by my doctors. Dr. Cates immediately ordered a scan to take a closer look at what was driving so much blood loss.
After being scanned, it was discovered that I had three 'cherry tomato' fibroids. As a result, there were numerous conversations regarding the various treatments available . But Dr. Cates' first course of action was bringing my blood levels up via intravenous B12 Infusions for a series of three days (Monday, Wednesday, Friday). I followed their instructions in maintaining a high-level blood count as I felt none of the surgical options were a good fit for me. Additionally, in my mind, the fibroids were small right so there was no imminent danger.
So, I thought!
Fast forward to winter 2019 and my routine annual visit. I knew something was happening to me. I felt tired all the time, had no energy, was light-headed, excessive bloating, weight gain, and the list goes on. Poise pads had become my best friend and I had stopped going out to many events. I was missing out on life.
Dr. Roker was the one this time examining me and based upon my bloodwork results that she held in her hands, not to mention the look on her face, I knew then that it wasn't good. She looked at me with a stern gaze and said, "I am going to admit you to the hospital you are not leaving here today. Go and call your husband or whoever can pack your bags because you ain't taking this thing seriously." She told me my blood count was almost a 5. The fibroids had grown and were sucking me to death.
I began to cry and said to her, ok I will start taking my iron tablets again. She asked why I had stopped, but said it didn't matter at this point because my condition had worsened and needed to be fixed fast. So we looked at a list of gynecologists to choose who would do my surgery. Dr. Roker made my appointment and sent the referral for me to go there straight away. All the necessary tests were completed, and I was given the cost of the surgery. I just made peace that this was actually going to happen even though I always prayed for a better option.
I prepared mentally to go under the knife and don't think I prayed harder for anything in my life. I wanted an intervention, as I truly was afraid of this route. Then before I could blink the Covid-19 was literally on our doorstep and the country found itself in lockdowns. I turned to the heavens and said thank you, Jesus, no ripping open of my stomach. What a relief and it was during this time that I prayed for a miracle. I knew that had to come out; I just didn't want them to cut me.
---
Dr. Cates… told me about Dr. Mikhail Higgins and his innovative approach to fibroid removal. Immediately, I was on board and I said, "where do I sign and when can I meet him!"
---
Then, comes summer 2021 and I was finally able to see Dr. Cates and Dr. Roker face-to-face, in-person (after all of the lockdowns and telemedicine consultations and the whole nine yards we all went through). Blood was drawn and yes you guessed it, the count was worse. In honesty, my front room ceiling was spinning for weeks as my tired body lay on the floor because I was just too weak to make it to the bedroom. That's how bad I was as a result of so much more blood loss during that year.
Dr. Cates told me he now has to diagnose me as a severe chronic anemic. During the pandemic, I lost a tremendous amount of weight and I could feel the fibroids had grown much bigger. I could feel one, just under my breast; it felt like a 6lb baby – like the head and the feet, no kidding. I even looked pregnant.
Then, Dr. Cates shared the best news I had heard since the pandemic started.
He told me about Dr. Mikhail Higgins and his innovative approach to fibroid removal. Immediately, I was on board and I said, "where do I sign and when can I meet him!"
I was so excited about the opportunity to have my fibroids removed through the Uterine Artery Embolization procedure. I met Dr. Higgins and both he and Shavon took their time and explained the procedure to me. Doc asked if I had any questions, and I said, "just one" – there was a long pause from me – and then I shouted out with excitement, "when can we start?!"
---
Dr. Higgins gave me my miracle.
---
I never told him but as he spoke the room lit up and it was in that moment I knew he was my 'Ram' in the thicketh that the Lord had sent.
A date was set for September and yes, we had a spike in Covid-19 cases which resulted in Doctors Hospital canceling all elective surgery. I was disappointed but safety was our number one priority. After all of the back and forth with the waiting game we were able to secure a new date. On November 2nd, 2021 I walked into Doctors Hospital to finally have the procedure completed.
The team there was so professional and really treated me well.
From taking the Covid-19 test upstairs in the lab, to registering, prepping, and post-care… I was rolled upstairs and began changing into the surgical garments. My aid helped me with the compression socks and sat with me for a while as I became so overwhelmed that I was actually going to be put to sleep and have this thing done. I started to cry because suddenly it was now real. In that instant when she said Dr. McCartney wants me to drink a cocktail sedative, I wept. There was nothing left to check off or forms to complete so… being the control master, I found myself helpless, but in the best care ever. I could only lay there and wait.
I remember being rolled into the CAT Wing. Dr. Higgins, Dr. McCartney the team introduced themselves. The last thing I heard was Dr. McCartney telling them to set me up. They fit me with a catheter and then – what felt like five minutes later to me – the nurse was waking me up. I asked her if we are going to start now and she said you're finished. I could not believe it. It felt so effortless. Dr. Higgins gave me my miracle.
---
Since the procedure, my life has changed for the better.
---
I wasn't in much pain, in comparison to going under the knife. I could still feel my uterus and all was well with me. He was able to successfully block off the blood supply that was feeding the fibroids, so they will start to disintegrate. I only spent one day in the hospital for observation and went home. Because of the efficiency of Dr. Cates' team, I received all of my post-op meds two days before my procedure so everything I needed was already at my house. You never know, what may seem like a small thing could actually save your life, prevent infections, etc. I never had to send for anything. You GUYS ROCK!
Post-surgery recovery was really shockingly good.
I was taken off my pain meds on the third day as the pain had magically disappeared. I thought to myself this was too good to be true. But low-and-behold I kept getting betting and stronger. During my recovery, I could feel my uterus shrink every day as it contracted back to its normal size. When I finally built up the courage to take off the bandage and look at the insertion – to this day I can't even find it. It's unbelievable. Nothing is there. It's like I didn't have anything done to me. Even Dr. Nina Graham couldn't find the entry point as she examined me for my post the procedure.
Since the procedure, my life has changed for the better.
My self-confidence is stronger and greater than ever. I have more energy, I can think more clearly, no bloating, I don't look pregnant. My blood count has stabilized. Yes, and no more fire hydrant bleeding. No more backaches. I often joke about being the great, great, great, great, great-granddaughter of the woman with 'The Issue of Blood' in the Bible. And I can testify that Jesus used Dr. Higgins and the entire team to HEAL me! To God be all the Glory.
To all the women that will read this, I just want to encourage you to call Family Medicine Center today and book a consultation. I promise you it will change your life forever. I did not have to get a hysterectomy that could trigger early menopause. The technology that is available offers so much, get informed today. Ignorance is not an excuse anymore. Google the information. You can change the trajectory of your life not to mention your physical condition and appearance. I did it and so can you. The team at FMC is my family and I've always trusted them with my entire family's life. Their team of professionals is unprecedented. Don't let fear cripple you, change starts with the man in the mirror.
Once again, special thanks to Dr. Cates, Dr. Roker, Dr. Higgins and Dr. McCartney – they saved my life!
Tamisha (aka Toshia) Knowles
---
Do you have fibroids? Schedule an initial consultation with Dr. Graham Cates.
Call 702-9310 or click here to schedule an appointment via our online form
Read more about Interventional Radiology and Uterine Artery Embolization
Read more about Dr. Mikhail Higgins
Listen to Tamisha, as she shares her story on local news networks: